Individual, Marital and Family Therapy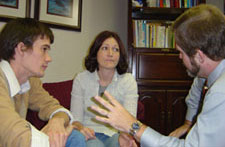 Sometimes, an outside
perspective is all that is
needed to find a solution
to problems that may have seemed unsolvable. The goal of therapy is to discover new ways of looking at situations through interaction, so
that the individual or family
is better equipped to resolve
future problems themselves.
Sessions typically last 45-50 minutes and focus on specific areas of conflict within the larger context of relationships. At first, we'll find out where the problems are and identify the best method for treating them. After that, our sessions will focus on the progress made between sessions, and the reasons for gains and losses. Treatment over an extended period can prove the most beneficial, but in other cases, only a few sessions are necessary.